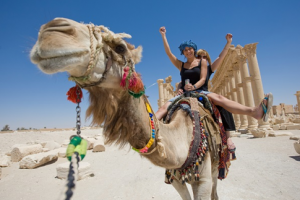 There are many languages and nearly as many language learning programs out there. It can be difficult to choose which language to learn. Not all programs, however, are created equal. The internet has made it easier than ever to take courses at your own leisure and in the comfort of your own home. Anyone can put together a course syllabus, upload a few activities and videos teaching students proper pronunciation and word order. How valuable is it throwing money away to watch someone talk to you and to do some online activities?
Most language students learn faster and more efficiently with regular practice. This principle not only applies to learning a new language, but in learning any new skill. You can fill your head with knowledge, but that will gradually disappear if you don't put what you learn into practice.
Cultural immersion programs are great opportunities for students learning a language to put what they've learned to the test and use that knowledge in real-life conditions with those who are native speakers of that language. A quality language school won't be content with just imparting knowledge of a language onto their students. They will offer their students the opportunities to travel abroad in an immersion program.
Arab Academy is based in the Egyptian capital city of Cairo, where multiple dialects of the Arabic language are spoken. Students who wish to perfect their Arabic language speaking, listening and writing proficiency, have the opportunity to do so through our immersion program which will take them to Cairo, Egypt. In our immersion program, students will have a memorable experience conversing with locals, learn about the Egyptian culture and take in the country's world-renown sites and landmarks. For many students, this Arabic language immersion trip will be the only time they will experience and see Egypt.
Egypt is a great place to visit. It is only here that visitors can see remains from one of the earliest civilizations on earth. Egypt is also home to the iconic Sahara Desert, a place that many people have traversing on camelback on their bucket lists. The Egyptian culture and traditions are founded on traditions that have been passed down many generations and exhibit traditional Arabic elements as well.
As great as Egypt is, its majesty and reputation has been tarnished over the past few decades by violence and political upheaval. Traveling to Egypt has become a concern for some of our students.
Egypt, however, has greatly improved in recent years. In fact, a Gallup poll ranked Egypt as the safest country in Africa and safer than the UK and the US. The survey, reported by BBC received a safety score of 88 out of 100, an improvement from its 82 score in 2016. This score places Egypt as the 16th safest country out of 132 countries that were surveyed. In comparison, the UK was ranked 21st and the US 35th.
Egypt's score places it among such countries as Denmark and China. Egypt's improved safety score has been largely attributed to Egyptians heighted trust of police.
The Gallup survey involved asking participants in multiple countries how confident and trusting they are of police, how comfortable they feel walking around at night, and whether they or a family member had been the victim of theft or assault.
Singapore was ranked as the safest country while Venezuela was ranked as the least safest country.
Egypt has improved its security and safety significantly. We hope stories such as these will inspire and encourage Arabic language students to take that next step and join one of our language immersion programs in Cairo. Our country and the people are amazing and we'd love to give you the opportunity to experience and explore it.
If you have any questions or would like more information about our Arabic language immersion program in Cairo, Egypt, feel free to contact us.