[vc_row][vc_column][vc_column_text]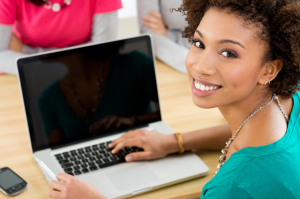 Learning the Arabic language may seem like an insurmountable task at times, especially if you don't live in an Arabic-speaking country. However, there are a ton of different ways you can learn it, even if you aren't surrounded by native speakers.
One of the newest and most popular ways to learn Arabic is by using online resources. Technology has reshaped the way many people around the world learn and develop new skills, and that includes learning a new language.
There are a few components to successfully learning the Arabic language online that you can use to significantly increase your learning efficiency. Some online programs offer all these components, while others may only contain parts. Whatever path you choose, make sure you try to cover as many of these components as possible.
Online Courses or Apps
One of the best things about learning the Arabic language online is the convenience of the process. In today's world, there are a huge variety of smartphone apps and online programs that you can use at the flick of your finger or the click of a mouse.
Learning a new language is largely dependent on finding the right materials for you specifically. Apps and online courses makes that process much easier for you, since you can try most of them out before you purchase them. When you do find one that you like, you will be able to work through exercises and materials in the comfort of your own space and move at your preferred pace.
Online Immersion Programs
Many online language programs also include the choice to be a part of a complete immersion experience. These programs create engaging experiences for every user that simulate immersion in a foreign-speaking country.
Language immersion has largely been considered the best way to learn a new language, and online programs offer one of the most inexpensive ways to experience this immersion process.
Listening
The online world offers a huge library of video and audio content of native Arabic speakers that you can use to learn. Listening to native speakers is another great way to learn a new language, especially when you can listen to audio taken from real-world situations that have context.
Speaking
The internet also gives you the opportunity to connect with native Arabic speakers that you would normally never meet under other circumstances. Using forums and social media, you can find and befriend native Arabic speakers and ask them to help you learn Arabic. You can use this method to speak in a real-world context that is more likely to stick with you, even in later months and years.
Reading
Again, the internet is an excellent source for Arabic content written by native Arabic speakers. You can mostly access written Arabic content for free anywhere online, however, paid programs typically offer content with learning aides to help you better understand what you're reading.
Using Everything the Internet Has to Offer
In the end, it's important you use a combination of all the resources listed above to form a comprehensive online learning experience. Using these components to successfully learn Arabic online will also help you retain what you've learned for a long time.
Arab Academy has comprehensive online Arabic language programs for all ages and fluency levels that individuals, schools, and universities from all over the world have used to quickly and effectively learn Arabic. Book a free lesson today!
[/vc_column_text][/vc_column][/vc_row]